Receiving a diagnosis of metastatic breast cancer – an incurable disease – can be incredibly isolating and challenging. But a new resource has been developed in collaboration with women living with metastatic breast cancer to provide links to useful, accessible and reliable information, peer networks and support services in Australia.
Developed in a two-phase study funded by the National Breast Cancer Foundation, the Signpost resource includes links to counselling, financial and legal information, peer support, wellbeing advice, and support for carers and loved ones.
The card allows women to determine if, when and how they would like to access supportive care resources irrespective of where they are along their metastatic breast cancer path. Brought together by Signpost, the services provided by McGrath Foundation, Breast Cancer Network Australia, Cancer Council Victoria, CounterPart and Think Pink Foundation offer wholistic care for those with metastatic breast cancer, and support for the people around them.
Access the resource at unimelb.edu.au/signpost. If you would like more information or printed copies of the resource to provide to patients, please contact enquiries-cnrg@unimelb.edu.au.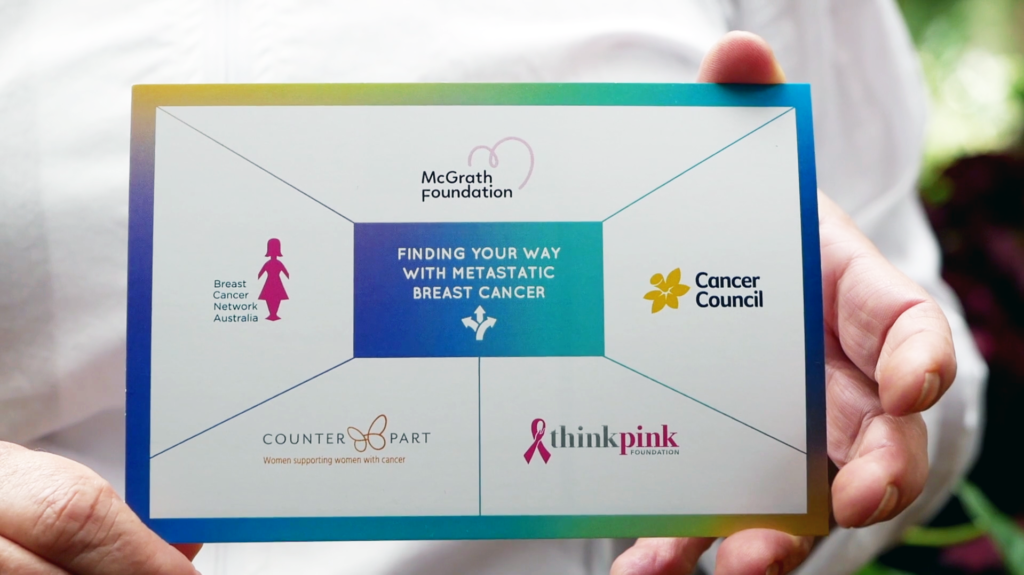 Second Hope Support Group – for women with metastatic breast cancer
Second Hope is an informal support group for women with metastatic breast cancer.
Make new friends, share information in a supportive setting with women who understand the challenges of living with advanced breast cancer. Regular guest speakers and facilitators offer a variety of topics relevant to the challenges and issues faced by women with metastatic breast cancer.
The group meets on the first and third Wednesday of each month from 12noon to 2pm at The Living Centre, 390 St Kilda Road, Melbourne 3004.
To make a booking click here or contact The Living Centre on (03) 9820 2888 or email: thelivingcentre@thinkpink.org.au