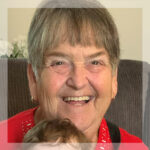 Hi. My name is Evelyn Wilson. I am nearly 77 and my journey started last year.
It really began on January 1 when the bushfires ravaged Mallacoota. Our old caravan which was in storage was unfortunately burnt. We (my husband and I) had gone to Mallacoota for probably 25 years or more. OK, so that happened and we were organising to go up there with the tent again, when Paul had an aneurysm in the brain and unfortunately passed away on February 8. Almost a year ago now. Three weeks later, I found a lump in my left breast – triple negative stage 3. Heart conditions, Diabetes I knew about, but not cancer. On the way to the Breast Surgeon I got a message that I was the only one who could come in. She was coming to support me and listen for info. Very little did I comprehend. I had a mastectomy on April 1. In overnight and home the next day, because by then COVID 19 had reared its head. I wasn't in a very good place at that time, and my son stayed with me for the weekend, and then I was on my own, never having been on my own for any time in my life. Because of COVID 19 my extended family could not be there at a time in my life that I needed them desperately. I have 2 sons who made sure they did the shopping for me, but that first lockdown was awful for me. All my medical appointments were on the phone and I didn't know if what I was going through was right, so I just kept battling on.
During chemotherapy I thought there must be bras that were better than the ones that I had originally, so I rang the surgeon's Breast Cancer Nurse to ask her, and she put me on to Gen the Breast Cancer Bra fitter who was wonderful who I saw at Mulgrave. Not only did she fit me for the bra and prosthesis, she asked me if I had contacted Think Pink. I had never heard of them. So Gen took my phone and organised it for me for which I'll be forever grateful. On the next Monday Andrea rang me and asked for my story which I told her and she said there was an over 50's forum if I was interested. Was I ever interested!! To connect with people face to face after so long was wonderful! During this zoom meeting I was asked to tell my story along with everyone else, but I could not even open my mouth. Andrea took over and told my story and by the time the session finished I was able to participate.
The next session of the over 50's group came around and I had been participating in Tai Chi, Reflexology, and some Mindfulness and Meditation classes although I found it very hard to concentrate during the meditation sessions as my mind would wander all over the place. The second over 50's group saw me able to talk and to realise that tears were not an indication of weakness. I had found it really hard to equate being a 'strong' person as my friends kept saying I was, with the blubbering mess I was at times. Listening to other people talk who had been through similar, but not the same experience that I had was settling for my spirit.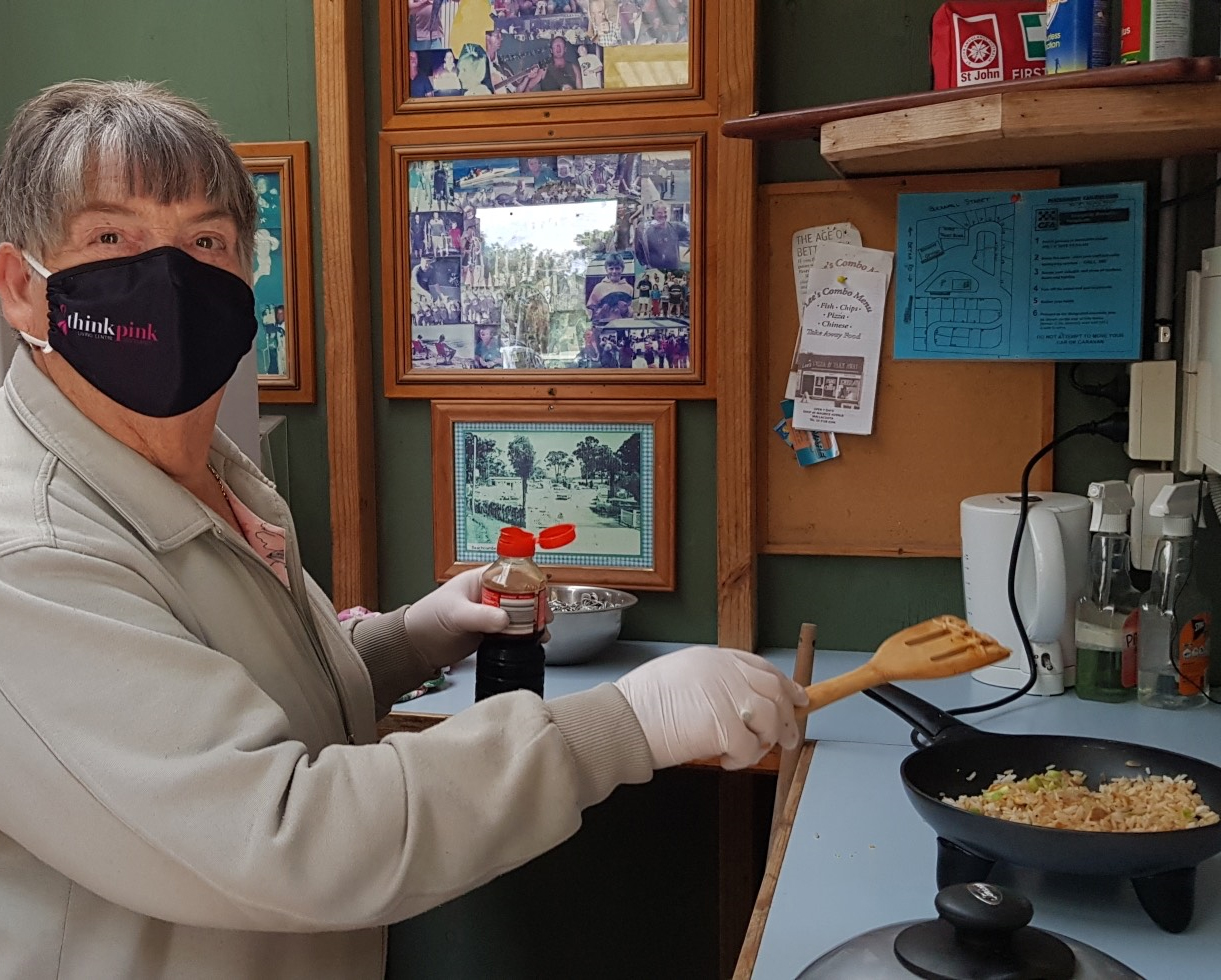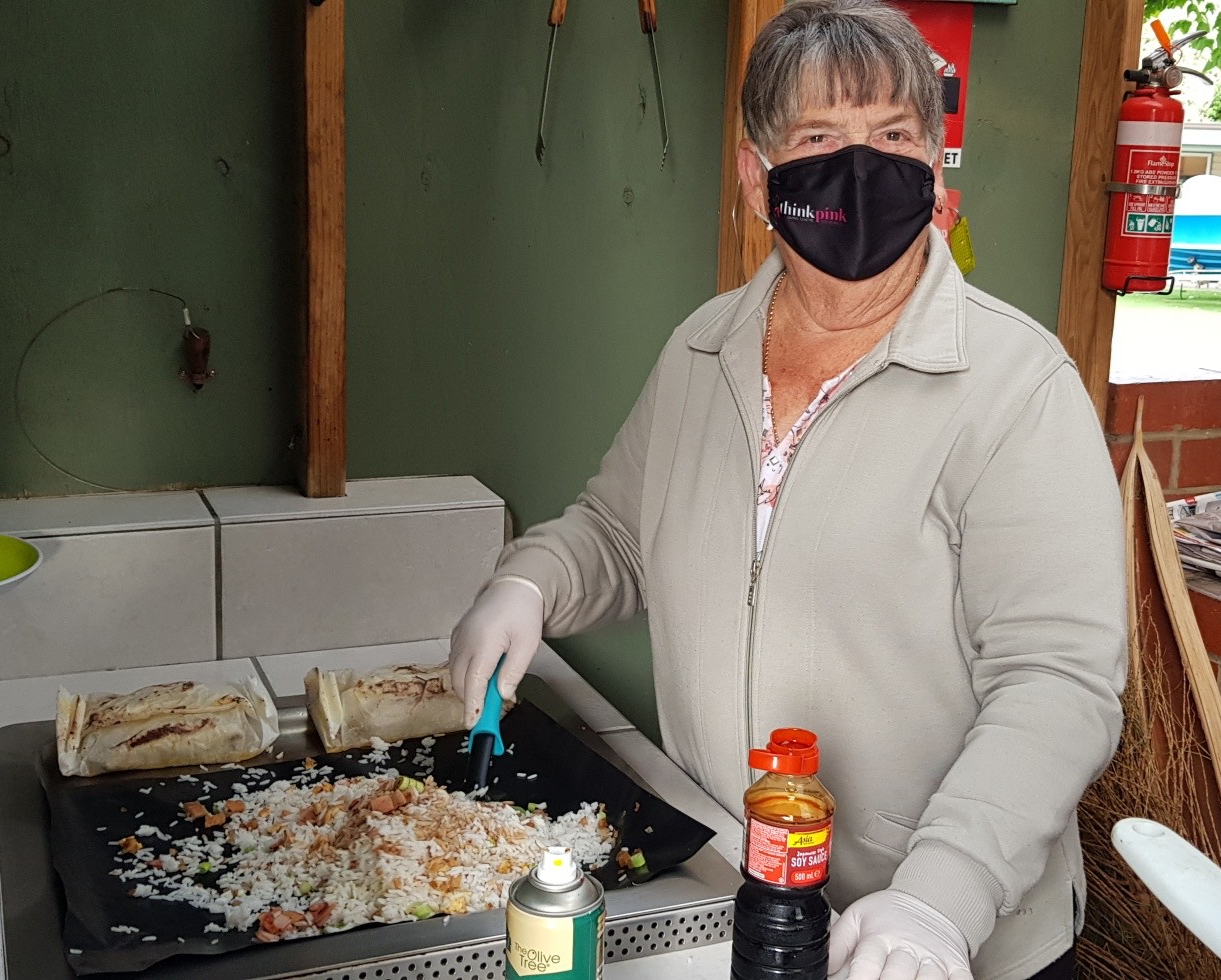 Also, by that time I had something else to think about. I had said for a long time that if anything happened to Paul, I would buy a motor home and continue travelling around Australia. During lockdown I happened to ring a friend who told me that friends of hers, who I also knew, were selling their motor home. So after a lot of photos, a mechanical inspection, and a lot of thought I bought myself the motor home. Problem! It was in Newcastle. I was in Melbourne and we were locked down for the second time. My son organised for it to be brought down on the back of a truck and here I am now, writing this, sitting in my motor home in Mallacoota with the heater on because it has been raining since Monday evening and I got here Monday lunchtime. I am as happy as a pig in mud, socialising with friends I've made up here over the years, and looking forward to making new friends on my travels.
Without the support of Think Pink and all the activities, I would not be as far along My Journey as I am now. I was asked by a psychologist if I was anxious about whether or not the cancer could return. I said no, as I feel there is no point worrying about something that may never happen. Plenty of time to worry about it if it does. BUT, here I am, the sun has come out so life is pretty good at the moment. Thank you Think Pink for helping me on a journey that I never considered I would have to face. At the moment I feel that I could face anything, but that may change. We will see.