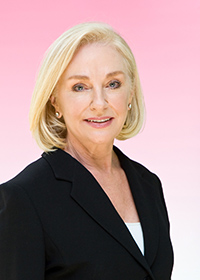 Irene Hendel
Director, Patron of Think Pink Foundation and Founder of The Living Centre
Irene was born in England began her professional and commercial career in the fashion industry, for many years working with fashion house, French Connection, both in London and here in Australia. Until retiring from business in 2015, Irene successfully operated her own interior design and giftware business for over twenty five years called Private Lives Interiors.
Irene Hendel is a breast cancer survivor, having been first diagnosed in 1995 and then re-diagnosed in 2003. In 2000, Irene joined Think Pink Committee and has for the last 20 years actively raised funds for our Cause.
Irene served as Chair of the Foundation for over ten years from 2004-2015 and in 2010, fulfilled her dream of creating and opening The Living Centre – a unique, non-clinical based sanctuary for people with breast cancer, their families and carers. In February 2015 Irene also became Patron of The Foundation.
In recognition of her commitment and dedication to Think Pink and for her support of hundreds of breast cancer patients in the community over the previous fifteen years, Irene was awarded the Medal of the Order of Australia (O.A.M.) in the 2015 Australia Day Honours List.
Irene is still very much committed to and involved with Think Pink, continually raising funds for the Foundation and speaking publicly on its behalf.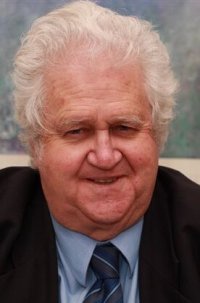 Ron Smith
Chairman
Ron Smith, Managing Director of Corporate Media Communications Pty. Ltd. has over four decades of experience in the media advising both the private sector and government in relation to media and community strategies at a senior level.
Ron has worked with the Urban Land Authority for twelve years; he was responsible for the communication program to establish the Docklands Authority, and was the independent media adviser and strategist for the Local Government Board during the Victorian Council Amalgamations.  He was also an advisor to many of the major local Councils in Melbourne specialising in crisis management.
He has been involved in creating strategies for Kidsafe Victoria on child accident prevention for two decades and has also been involved in developing campaigns for the Victorian Deafness Foundation and the Royal Children's Hospital Good Friday Appeal Telethon.
In the health field, Ron Smith was the National Director of Communications for Kidney Health Australia for eight years and also created national media programs for SIDS and KIDS and Limbs for Life in regard to helping amputees play golf.
Responsible for the development and launch of Victoria's first major water saving campaign 'Save Three Buckets a Day', and the community strategy for the introduction of compulsory pool fencing for the Victorian Government, he has maintained a career long interest in the environment, the arts and child accident prevention.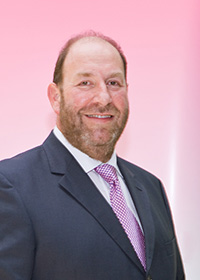 David Hendel
Director
David Hendel has been associated with Think Pink for over twenty years and is our Patron, Irene Hendel's husband of thirty five years.
David brings to the Foundation considerable commercial experience, having operated businesses in such diverse fields as textile production, real estate development, veterinary pharmaceutical distribution and audio visual hire.
David was instrumental in organising our Masquerade Ball for fifteen years and also in the establishment of The Living Centre. On an ongoing basis, David is responsible for and manages (on a pro-bono basis), the Foundation's high level administration and our major events such as the "Putt In For Pink" Golf Day and the Think Pink Coffee Lid Campaign each year.
As Irene's soul mate and partner, David brings to our Board the experience and perspective of being a carer for and partner of a breast cancer patient.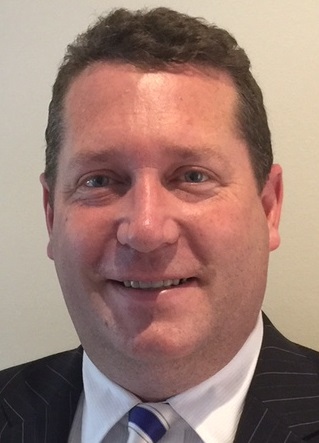 Robert Whalley
Finance Director
Rob is a Chartered Accountant working in the hospitality, tourism, property and business advisory sectors.
He began his career with EY and continued on to develop a major vehicle franchise over a ten year period, before moving into online technology. Rob is also a fully licensed business, real estate agent and auctioneer. His focus is on business planning and development, and operational change management.
He is a car enthusiast, a keen follower of news and financial markets and is based in Melbourne's bayside area.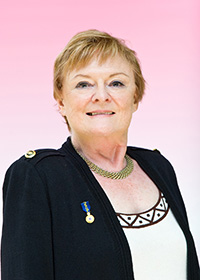 Doreen Akkerman AM
Patron
Doreen Akkerman, AM retired in 2010 from the position of Director at the Cancer Information and Support Service at the Cancer Council Victoria, a position she held for twenty years.
At the Cancer Council Doreen was responsible for numerous cancer support programs for people experiencing cancer and their carers. She was also responsible for two innovative health professional education programs that were a first in Australia and both are a huge success: The Breast Care Nurse Distance Education Program, a tertiary level education program for Breast Care Nurses, and the Victorian Cancer Clinicians Communication Program, a unique communication program for oncologists.
Doreen also established the first 'Sexuality and Cancer' seminars and workshops for health professionals, patients and their partners.
Doreen was the inaugural President and current serving Board Member of the International Cancer Information Services Group and has published many articles and presented workshops and seminars by invitation in Australia, Europe, United Kingdom and the USA.
Doreen was awarded as a Member of the Order of Australia in 2007 and was inducted into the Women's Victorian Women's Honour Roll in 2010.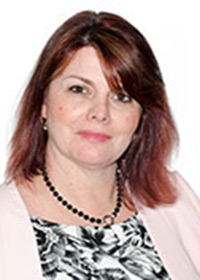 Kim McAliney
Former Wyndham City Mayor and Councillor, Kim McAliney joined the Board of the Think Pink Foundation Pty. Ltd. in 2019
Kim has had a long history of community involvement, both in Local Government and community level and has wide business experience.
Raising two sons, with a career spanning over 30 years, Kim has worked at accountancy firms, in the aged care and retirement sector, a multi-national company and a National Crisis Counselling Service and held numerous board directorships.
Kim is FCPA qualified, has an Advanced Diploma in Public Safety (Emergency. Mgt) and is a Graduate of the Australian Institute of Company Directors (AICD).
A Trust member of the Greater Metropolitan Cemeteries Trusts (GMCT) since 2013, Kim has also been a member of the Victorian Veterans Council since 2016 and is a former Chair of the Salvation Army State Social Command – Victoria and Director City West Water.
Kim is a current serving Justice of the Peace and Bail Justice.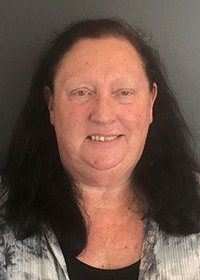 Maureen Corrigan OAM
Maureen Corrigan OAM is recognised for her extensive work as a volunteer with a wide range of diverse communities and many disadvantaged groups.
Maureen will add twenty-five years of experience and skills to the Think Pink Foundation's Board and as a Breast Cancer Survivor is acutely aware of the challenges to women going through the journey of breast cancer recovery.
She has extensive experience in the public and community health areas through her previous roles being involved with the Cancer Council Information Service and fundraising for public health facilities.
Maureen received the Order of Australia Medal for community work including a major involvement for ten years with Whittlesea Community Connections Chair of International Women's Day Whittlesea, Northern Health Corporate fundraising committee, Northern Health Foundation Board Member as well as being the Patron of Northern Health.
These roles provide Maureen with a valuable insight and extensive knowledge of a range of areas within the public and private health system.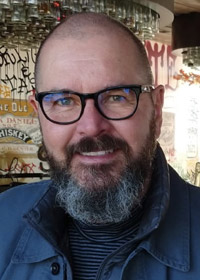 Victor Maree
Director
Victor started his marketing career with Unilever and has extensive international marketing and agency experience, including Clemenger BBDO, George Patterson, Publicis and TBWA\ Hunt\Lascaris, one of the world¹s most highly awarded creative agencies.
Victor brings a unique strategic ability to the equation and well-honed client service skills developed on clients such as Colgate-Palmolive, Nestlé, RACV, nab, CUB, Uncle Tobys, Mercedes-Benz, Australia Post, Worksafe, Metlink, VicRoads, Medibank and State and Federal Governments. A frustrated creative to his core, Victor loves nothing more than great work. Victor is a founding partner and managing director of Marmalade, a Melbourne based independent creative agency.