Progressive Marathon Great Success
The Progressive Marathon, run between 7 – 21 April 2018 culminated on Saturday 21 April at the Yarra's Edge Wellness Festival at Wharf's Landing Park, South Wharf Drive, Yarra's Edge, Docklands.
Irene Hendel OAM, Founder and Patron of the Think Pink Foundation, a two-time survivor of Breast Cancer said, "The Mirvac Yarra's Edge Progressive Marathon provided the opportunity for people to undertake a personal campaign to help the Think Pink Living Centre provide its FREE services to hundreds of women and their families during the difficult breast cancer journey.
"Yarra's Edge Wellness Festival was aimed at promoting walking as one of the best exercise activities for anyone recovering from Breast Cancer."
Set up at the Yarra's Edge Wellness Festival was a bike and blend stand to pedal and make your own DIY smoothies, the Think Pink Heroes finishing line, Free Massages and the opportunity to take some outstanding selfies with the Think Pink Bug and some stretching sessions.
A great day was had by all including a number of four legged marathon runners who joined in the finish.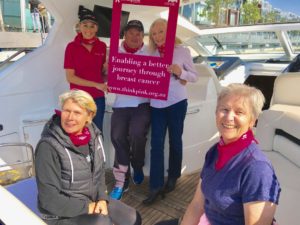 Left Sue Stanley, well-known fitness expert; Megan Marmur, Marketing Manager of Mirvac; Gary Freeman, General Manager, Pleasure Cruising Club; Irene Hendel OAM, Patron and Founder of the Think Pink Foundation and Maria, former client of Think Pink – the proud winner of the Day on the Bay having raised $2000 for the Mirvac Progressive Marathon.