Progressive Marathon Gets Breast Cancer Help On The Run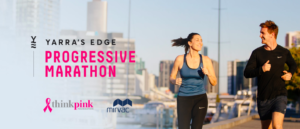 Whether you are a daily walker, a regular short distance runner or a marathon champion, the Yarra's Edge Progressive Marathon is the perfect way to get active, fit and healthy this April (7-21st) while raising money for Think Pink.
Where Funds Raised Will be Spent
All money raised goes to breast cancer charity Think Pink – an independent foundation that raises funds to provide free services to breast cancer patients and their families, assisting them with their journey through breast cancer.
All donations are directly used to provide services such as:
Free unlimited counselling with our Breast Care Nurses;
Therapeutic massage and exercise classes;
Professionally fitted free wigs;
Free accommodation for families from regional Victoria;
Special events and classes for those returning to work after breast cancer;
Financial counselling to cope with the cost of breast cancer; and
Classes such as art therapy, creative writing and family social activities.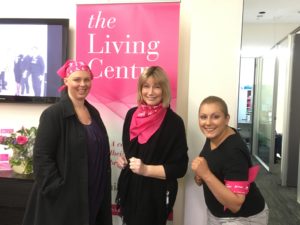 Think Pink clients Cheryl, Wendy and Jo model the Yarra's Edge Progressive Marathon Pink Bandanas.
Start moving!
There's some great prizes up for grabs courtesy of Pleasure Cruising Yacht Club, Novotel Melbourne – South Wharf and Kikki K.
Clock up 42.2km on the Strava Yarra's Edge Progressive
Marathon Club between 7-21 April 2018 to complete your Marathon.
Yarra's Edge Wellness Festival
Celebrate your achievement with the Yarra's Edge Community.
Complete your distance along the Yarra's Edge promenade and be cheered across the finish line!
Celebrate all things wellness with healthy treats, tips and tricks all while enjoying a morning by the waterfront with other fitness enthusiasts.
Join us at the Yarra's Edge Wellness Festival
DATE: Saturday 21 April 2018
TIME: 10am – 1pm
LOCATION: Wharf's Landing Park, South Wharf Drive, Yarra's Edge, Docklands.