21 November 2016
Think Pink Living Centre Faces Increasing Demand for Free Breast Cancer Services – 81% increase in 2016.
A free service for Victorian women and men dealing with the emotional and physical challenges of breast cancer says it is facing greater demand for its services including provision of free wigs and a comprehensive range of practical wellness programs.
Fem Belling, breast cancer survivor, jazz singer and musician, launches the Think Pink Living Centre's sixth year celebration by singing 'Don't Rain on My Parade.'
Written by Bob Merrill, Jule Styne * Copyright © Warner/Chappell Music, Inc
In the last twelve months, the Think Pink Living Centre has seen an 81% increase in new clients over the previous year with 463 active clients. 46% of clients attending from Metropolitan Melbourne, 6% from outer Metropolitan Melbourne, 20% from regional and country Victoria (26% unknown).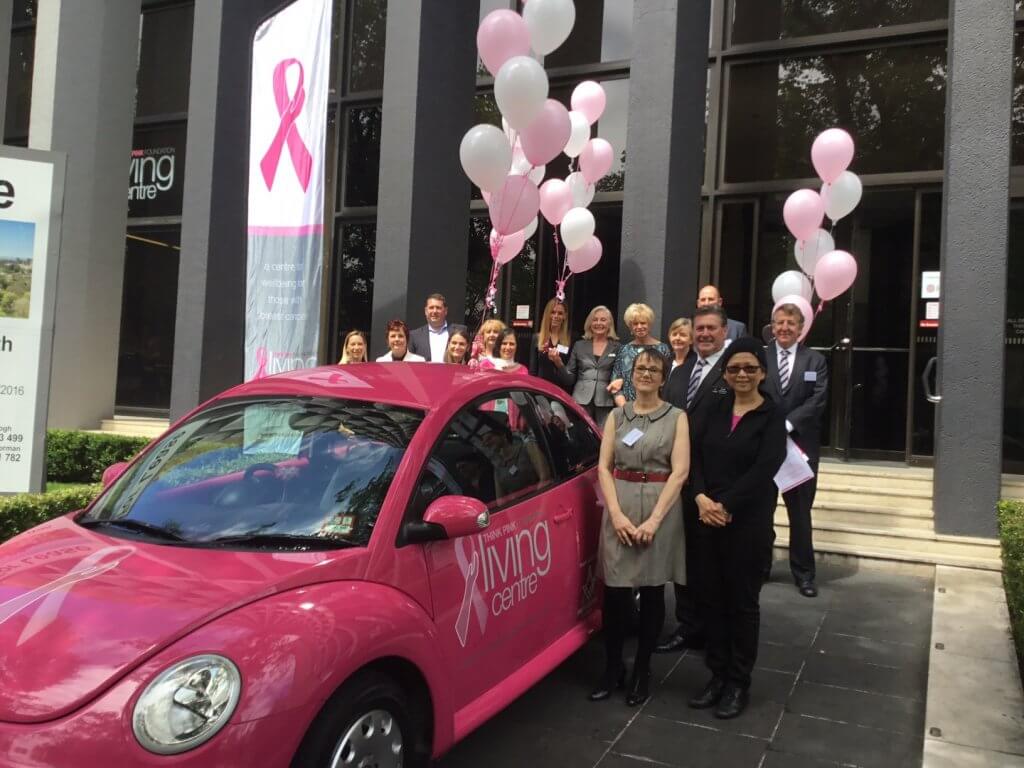 Irene Hendel OAM, with her husband David, founded The Think Pink Living Centre after two brushes with breast cancer herself, said the breast cancer journey is an emotional and physical roller coaster which can bring uncertainty, fear of the future and changes in personal relationships.
"The Think Pink Living Centre provides a wide range of activities including a 'Supporting Blokes' support group for men whose wives or partners are dealing with breast cancer.
"Through major support from the original partners over the past six years including Freemasons Victoria and more recently the Freemasons Foundation, Mirvac and many others, the Think Pink Living Centre has been able to provide an oasis of wellness activities for hundreds of women and their families over the past six years."

Freemasons Victoria Grand Master, Don Reynolds said "Think Pink is one of many recipients of philanthropic support through Freemasons Victoria, The Freemasons Foundation Victoria and the network of 250 Freemasonry Lodges across Victoria. Each year the Freemasonry community contributes over $2 million to valuable services and initiatives such as Think Pink."
Sponsors, cancer survivors and supporters of the Think Pink Living Centre at the launch in Melbourne. Photos: Ron Smith
Ms Hendel said features of the Think Pink Living Centre include a private consulting room, relaxation massage room, a fully equipped beauty, make-up and hair salon, a Wig Bank with over 100 wigs for people experiencing financial hardship during treatment, and complementary transport through a volunteer driver program.
Another very practical service is the provision of a fully furnished two bedroom apartment which is available to patients from regional areas that are facing financial hardship to provide accommodation during treatment.
Ms Hendel said apart from the facilities, the Think Pink Living Centre is professionally staffed and works collaboratively with other not for profits and many of the Breast Cancer Treatment facilities who link patients to the free services.
Today, the Think Pink Foundation brought together sponsors and cancer survivors who have used the Think Pink Living Centre services to share their stories and to create a wider awareness of the issues faced by patients and their families.
Media Enquiries:
Ron Smith, Freemasons Victoria – Mobile: 0417 329 201