Covid-19 Q & A Session with Dr Katie Allen MP *FULLY BOOKED*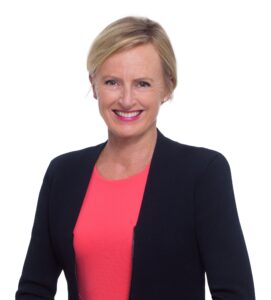 There has never been a time more so than now to try to keep everyone safe and informed, with the ever changing challenges that we are faced with due to COVID-19. Therefore, we have invited Dr Katie Allen MP to join Think Pink via Zoom next Thursday 6th August 2020 from 2.30pm to 3.30pm for a Q & A session with Andrea Cannon, Think Pink Breast Care Nurse.
In February this year, Think Pink was delighted that Dr Katie Allen, Federal member for Higgins officially opened the new Think Pink Living Centre at 81A South Wharf Drive in Docklands.  Unfortunately, not long after opening, Think Pink was forced to suspend all onsite operations on Monday 16 March 2020 as a result of the Victorian State of Emergency due to COVID-19 and very quickly transferred the majority of its programmes and services onto the Zoom platform.
During this time, many clients have reengaged with Think Pink, with regional clients once again being able to participate and benefit from the comfort and safety of their own home, despite the physical distance from Think Pink.
Think Pink hopes that this session will clarify and answer the many questions you may have regarding COVID-19.  Please register to attend below and submit any questions you may want addressed by Wednesday 5/8/20.
Dr Katie Allen MP is the Federal member for Higgins, elected in 2019.  Katie served as a Paediatrician and Medical Researcher at the Royal Children's Hospital, Melbourne for over 25 years. She was Director of the Population Health Research Theme at the Murdoch Children's Research Institute and was a Professor at both the University of Melbourne and Manchester. She has published more than 350 peer-reviewed publications. Katie was honoured as an inaugural Fellow of the Australia Academy of Health and Medical Science in 2015. Katie's international public health experience includes consulting to the WHO and the US National Academy of Sciences.
Katie has lived in Higgins for 40 years and is married with 4 children. She has volunteered for her community as Chair of the Melbourne Girls' Grammar School Council and on the Board of Cabrini Health.
As the Member for Higgins she sits on the Joint Standing Committees for Trade and Investment Growth; NBN; and the Parliamentary Library, and the Joint Select Committees on the Implementation of the National Redress Scheme and Committee on Indigenous Recognition. She is on the House of Representatives Standing Committees on Communications and the Arts; Industry, Innovation, Science and Resources and is a supplementary member of the Health, Aged Care and Sport committee.
We are thrilled Katie able to join us for what will be an informative session and hope you are able to join us.
To make a booking, please fill out the form below or call The Living Centre on 03 9820 2888. We will email you information on how to connect with Zoom once your booking has been confirmed.
If you are 
new
 to Think Pink, you will need to fill out a 
Client Registration Form
 before your booking can be confirmed.
06/08/2020




2:30 pm - 3:30 pm
Address:
Description:

This program will take place via the online conferencing platform, Zoom.