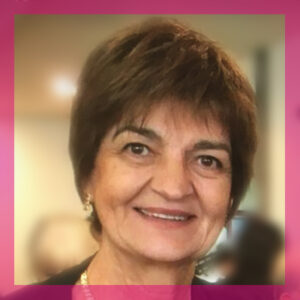 Joan Hammond


BOOK CLUB



After my treatment for cancer, I found Think Pink was only a short walk along the river from where I live. What a welcome and great home away from home for us women, all with a zest for life.
Being a bush girl, and now a city slicker gives me so many opportunities to see people as they are. I married young but still travelled and lived a rather alternative lifestyle all over the world. Firstly, with children and then to many places alone – always a traveller, not a tourist.
This travel has fed my hunger for reading and given some unique and scary experiences, all while I studied the lives of many. Yes, books feed this hunger and that is why my friend Julie and I would love to share experiences with the interesting, world smart, strong women who we have met under the guidance of Think Pink's Breast Care Nurse, Andrea.
I have been a participant in every Think Pink volunteer-run amazing group thanks to Zoom. How can one explain the power we are given when we log into Think Pink to join the ladies we share so much empathy with. I love seeing the smiling faces at every session – they look like the Brady Bunch.
Over the years, I have lived in three states, was involved in setting up Safety Houses for Children, Bicycle Education for schools, and SIDS. Now I have enjoyment coordinating, around my area, the collection of handbags filled with necessities for Share the Dignity. My employment has been in travel, real estate, and even cancer research. I write short stories and am in a script writing and drama group which puts on a lot of fun skits at the Melbourne Town Hall in Seniors Week. This year, due to Covid it will be on the radio.
Many hobbies fill my life but my interest is primarily with writing, reading, and socialising. What better way to enjoy all this than in a book club. There will definitely be some fun activities to enjoy every month.
Join me on Zoom – find out more.