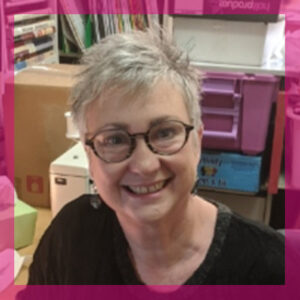 Sandy Buchanan


ART THERAPY FACILITATOR



I became involved as a client and then as a Volunteer Facilitator in 2017 not long after my breast cancer diagnosis and mastectomy. Joining in the activities at Think Pink whilst having chemotherapy and radiotherapy was a god-send for me. Andrea and the team helped me better understand the Breast Cancer journey – I felt supported by positivity imparted in the company of other women with similar experiences.
Having grown up in rural Victoria I moved to Melbourne in my 20's and have had a varied career through business management, fashion and manufacturing, then several years of TAFE teaching and course design. I retrained as an Art Therapist and commenced practice in 2015. Continuing to enhance my skills in the therapeutic field I embarked a Master's Degree in Therapeutic Arts and was part way through when diagnosed with breast cancer. I did not stop my learning but came to terms with the fact that this qualification would take a little longer to finish. Three years on I am in the 'home stretch' to completing my study. The final year is a practicum placement as an Art Therapist.
I am so grateful to be offered the opportunity to do my placement at Think Pink. Commencing in February at the state of the art new Living Centre I moved quickly into weekly group and one-on-one sessions not knowing how the next few months would unfold.
Necessity has meant a complete re-frame on my activities and learning to meet people through Zoom Conferencing. This experience is richly enhancing my study and equipping me with sound 'real life' skills. I have found the MIECAT Institute Therapeutic Arts process has person-centred qualities that strongly support participants and can make a positive difference to well-being. I am currently working with the Second Hope clients in making an Artefact, an expression of individual accounts of lived experience and meaning making. This project will stay with Think Pink for Second Hope to continue to develop.
I consider every day a joy and love my textile projects and to take on new creative techniques. Having said all that my greatest blessings are my two children and thirty years of marriage to my husband Keith.
Join me on Zoom – find out more.