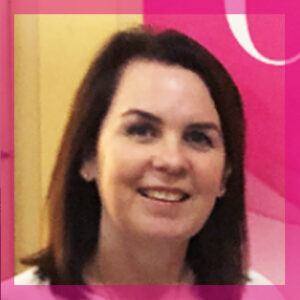 Ros McAuley
SECOND HOPE SUPPORT GROUP / HOT PINK SISTERS SUPPORT GROUP FACILITATOR / VOLUNTEER CO-ORDINATOR
I commenced volunteering at Think Pink in 2009 soon after the doors opened. I was looking for an opportunity to volunteer my time and as a nurse with a long career in the cancer setting, I felt that The Living Centre was the perfect fit for me.
Nursing wasn't my first career of choice,. After finishing school I commenced tertiary studies to eventually become a teacher but soon found it wasn't for me. Once I had decided I wanted to study nursing, I enrolled in one of the first university based degree courses and never looked back!
I always knew I wanted to work in the area of oncology. I completed my post -graduate qualifications and worked at Peter Mac before heading to London to see the world and further my nursing career. A highlight was working at the Royal Marsden Hospital, a world renowned cancer hospital in London. Since returning to Melbourne I have worked in a variety of cancer settings including breast cancer, skin cancer, palliative care, education and hospital management.
I was raised by parents who volunteered for many charities and organisations so it was natural for me to seek out opportunities to support causes where I felt I could make a difference. After doing a stint of volunteering at Cancer Council Victoria, I found out about a centre that was soon to open, and heard it was aiming to provide support and programs for women and men with breast cancer. That centre was the Living Centre! I immediately knew I wanted to be part of it.
I have watched the centre develop over the years and was also fortunate to be the final recipient of a Think Pink scholarship to undertake further post -graduate studies in Breast Care Nursing which I completed in 2011. In 2015 I took a break to study Pastoral Care at Peter Mac, consolidating my training over a 2 year period. I returned to Think Pink and have since had my finger in a number of pies. I host the walking group and facilitate the Second Hope and Hot Pink Sisters Support Groups. I also assist with the Days of Indulgence, Health Professional Days and represent Think Pink at community events. I'm always happy to help out when it is required.
My other role at Think Pink is as the Volunteer Co-ordinator, a role made easy due to the dedication and generosity of our amazing group of volunteers. I am greatly supported in this role by Andrea and the Admin staff. It is truly a team effort and my association with the Think Pink continues to be a very rewarding part of my life. As my kids grow older and I have more time on my hands I value the opportunities for personal fulfilment that my role gives me.
I continue to volunteer my time at Think Pink because I truly believe we provide a quality service and make a positive difference in the lives of women living with breast cancer. It has been a privilege to be part of its evolution from the beginning. A highlight for me was definitely moving to the wonderful new facilities at Docklands, an amazing facility designed specifically for the women who utilise our services, in a beautiful riverside location. I look forward to being a part of the exciting future that lies ahead as we continue to grow and support many more women living with breast cancer.
Join me on Zoom – find out more.